HFBS – Health Facility Briefing System
HFBS is an integrated suite of web applications for rapid service planning, briefing (space programming), facility planning, design, costing equipment scheduling and maintenance of Healthcare facilities.
HFBS streamlines the delivery of health facility projects through its brief first methodology & optimised workflow. HFBS is designed for Architects, Engineers, Builders, Consultants, Facility Owners, Medical Planners, Equipment Planners, Project Managers and Health Authorities.
---
HFBS is Ready to Use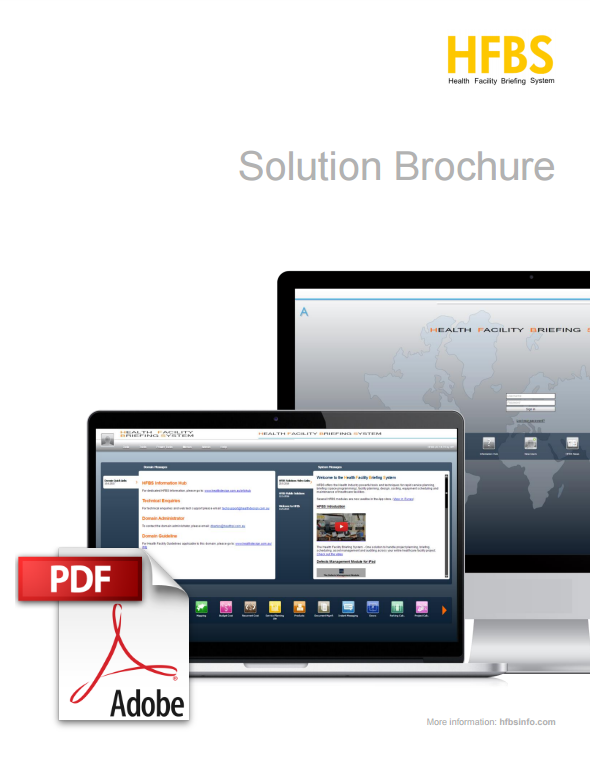 HFBS Brochure
HFBS is available at healthdesign.com.au, quickly start a free trial or subscription using a secure online system. HFBS streamlines the delivery of healthcare projects by capturing information in such a way that it is used directly from briefing though design to construction of the project. It is a unique no gap system giving clients the peace of mind that all aspect of the project are well controlled and managed.
HFBS provides hundreds of ready to use Standard Briefing and Design Components for immediate use in an editable format.
HFBS generates project data and schedules including Room Data Sheets, Room Layout Sheets, Furniture, Fittings, Fixtures and Equipment Schedules, Finishes Schedules, Budget Costing, etc in one centralised location.
HFBS has many indispensable modules available via annual subscription. It suits healthcare Architects, Medical Planners, Equipment Planners, Project Managers and Health Authorities. Some of the HFBS modules are:
Briefing Module – designed to rapidly create project briefs using Health Facility Guidelines as the base
Document Manager – an easy to use web based document management system featuring multi-layered security and version control
Property Module – completed projects known as Assets incorporating the briefed data along with campus, site, building, department and room information
Purchasing Module – aggregates and displays the room equipment then links to Orders and Invoices for purchasing
Budget Costing Module = uses the briefed departments and applies a benchmark cost rate adjusted for RDL and percentage of refurbishment, then adds an external shell template and on-costs to arrive at a whole of project costing
Products Module – provides for catalogues of products including building finishes, furniture, fixtures and equipment used for specifications and schedules
Door Schedule – easy creation of door schedules and specifications based on pre-specified templates
Mapping – creates an icon for each project and displays data on a map with a filtereing and search function
Service Planning – uses customised reference files and population catchments to determine health services demand at DRG, specialty, service type and service mode level, in all domains
Recurrent Costing – uses job titles and FTE's to determine human resource requirements; goods and services costings use benchmarks based on area, bed numbers and parametric calculations
For more details download the HFBS Brochure or check hfbsinfo.com.
---
Web Based Access
The HFBS is accessible from any computer using a multilayered security scheme. No software is required.
HFBS saves thousands of hours of hard work saving time and money.